AXE THROWING ALBANY
Are you looking for things to do in Albany, NY? Looking for a competitive but also encouraging team-building or Fundraising activity? Or maybe you're just looking for a cool date night 💖. Check out axe throwing at Far Shot Albany, NY; Capital region's largest axe-throwing venue! Trained by the Head Coach of the World Axe Throwing League – this is the place you want to go to throw an axe! We take small groups of min. 2 people to large groups of 50 + people! Prices start at $25 per person, Each Booking comes with equipment, training, and games!
Bring the friendly competition and the cameras 🤳📷 because this is bound to be one for the memory books. If you Book on a Monday night, axe throwing is only $20 per person for 1 hour or $40 per person for 2 hours! Take advantage of our weeknight deals.
And did we mention you're free on your birthday for groups 6+ 🎂🥂🎉
We're also got a bar – and you don't need to book an activity to enjoy our food and drinks! Check out our awesomely priced menu. Wednesday is 1/2 Price Wing 🍗Night – and we have some PRETTY AWESOME new flavors to try. We've also got a mezzanine Lounge Area and Free Arcade Games if you're just looking for an easy-going hangout spot.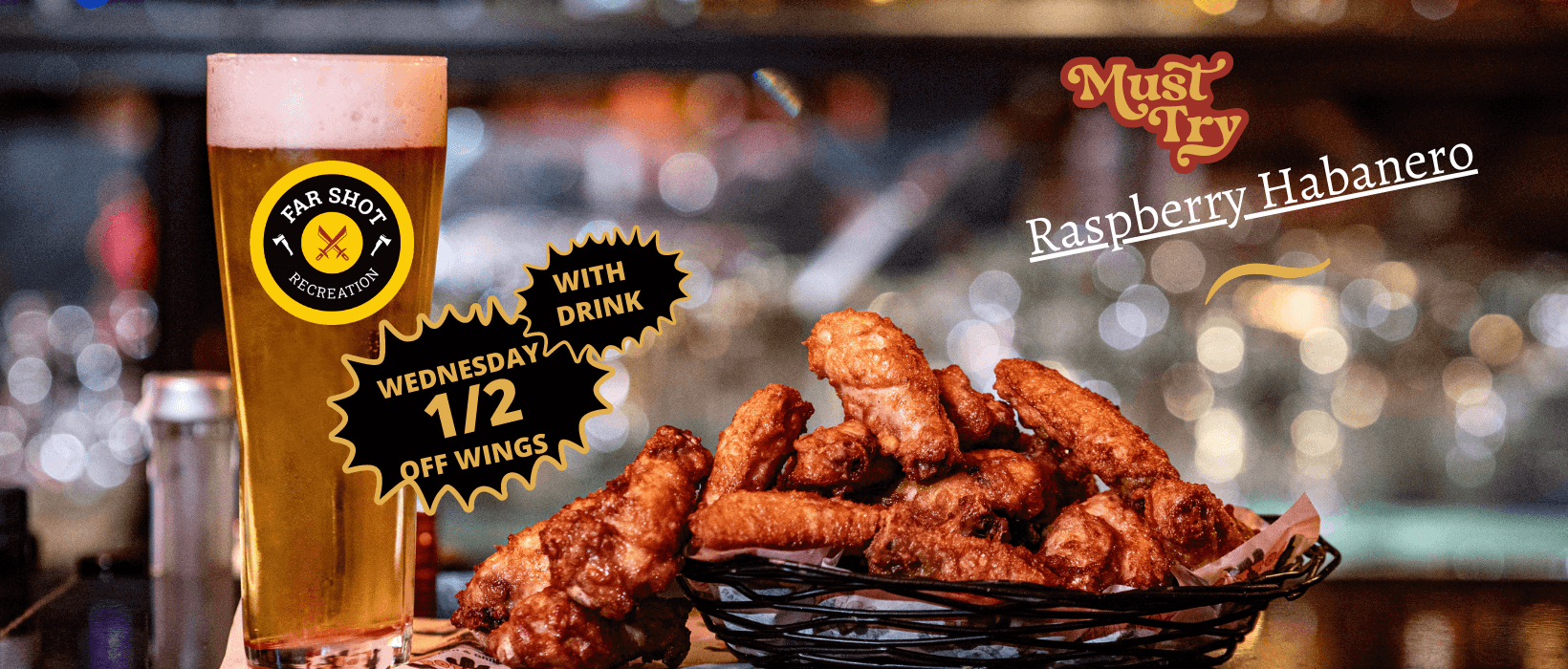 KNIFE THROWING ALBANY
Knife throwing looks and sounds lethal but..it's more of an art thing to do! Come experience the art of knife throwing with a group of your friends. This activity includes training followed by competition with the supervision of a coach. Add it to your axe throwing main event for just an extra $5/person! Or Book a 1 hour session minimum 2 people for $25 per person. For larger groups, we recommend doing 2 hours for $40 per person.

If you Book on a Wednesday night, knife throwing is only $20 per person for 1 hour or $40 per person for 2 hours! Take advantage of our weeknight deals.
Discount Is Automatically Applied when you choose the right activity on the right day. Book your weekday event between 5-9pm and watch the price change from $25/person to $20/Person! Smash that Book now button…NOW!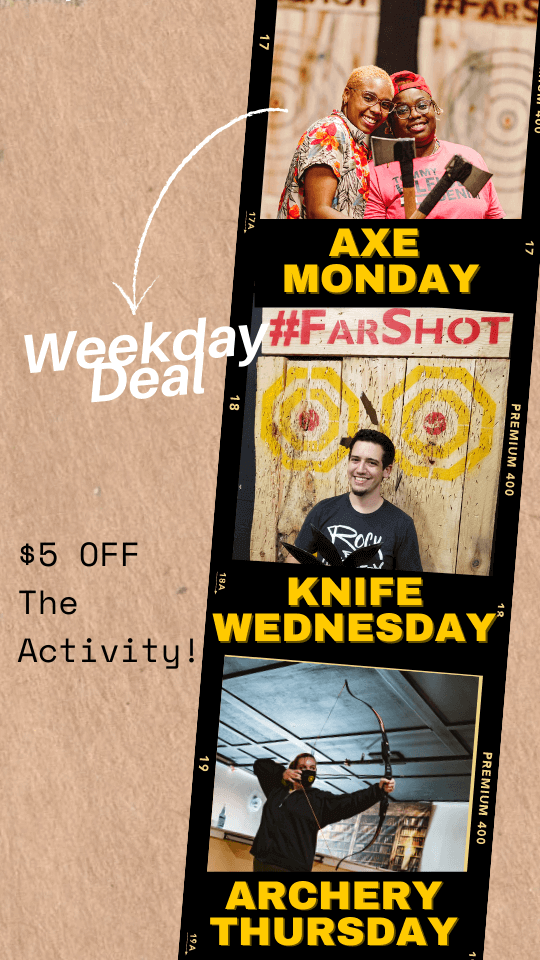 E-Gifts
Gift a Sharp Experience from afar. Best last-minute, socially distanced, locally supportive gift-giving idea Ever! Never expires; good for any of our activities!
---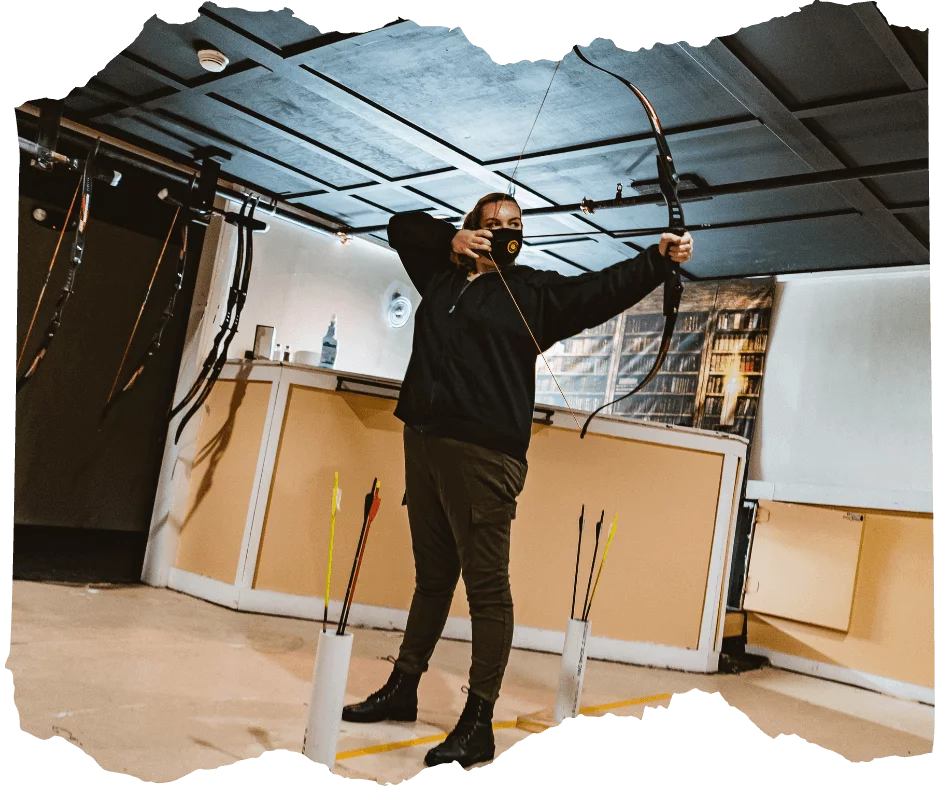 ARCHERY ALBANY
Far Shot hosts Archery parties like no other! We take a traditional sport and give it an urban twist. Our stellar coaches will train your group, provide equipment, and run a tournament to crown your next Archampion! We even offer 3D targets to level up your experience.

If you Book on a Thursday night, archery is only $20 per person for 1 hour or $40 per person for 2 hours! Take advantage of our weeknight deals.
---
LEAGUES! LEAGUES!
8 Weeks of Chopping Fun! An appreciation night, playoffs, and a potluck night. Rank with other players across the world.
---
Q & A
Requirements?
Closed-toe footwear (no sandals)
Waivers are required.
Listening to your coach and following safety instructions are also required.
Skeptical?
At Far Shot Axe throwing, industry leaders in safety. Your host is trained to keep you safe. The axes and knives are also purposely dulled. The worst injury we've had are splinters! Don't touch the wood; just grab your axe from the board and you'll do great. If you're still scared after your first couple of throws, let your coach know and you can get your money back and transition to being an observer.
Mixing alcohol with Sharp objects is safe? There is a 2 drink advisory for throwers. You're welcome to enjoy our bar and continue drinking after your throwing session. We will refuse service to all participants who do not adhere to coaches, safety procedures, and instructions. Our coaches are there to ensure safe throwing practices!
Book The Whole Place?
Book the whole place, do Archery, knife, and axe throwing Downtown Albany, NY with Far Shot. Over 6,500 Sqft and multiple floors, we can accommodate bigger crowds. Email us for quick replies at

[email protected]
Food and Drinks
We sell Beers, Wines, Ciders, and cold Sodas.
We've also got food combos and snacks at our bar; Check out Our Menu.
You don't need to participate in an activity to purchase our food or drinks. Come and lounge with us and enjoy our cheap eats and beer!
Bring Your Own?
We love it when you share your passion with us. If you want to bring in your own equipment we'll accommodate. As long as the equipment is inspected and is deemed to be safe for use.
Free For Your Birthday?
Only valid for 1 person with a group of 6 or more people. Can not be combined with any other promotions or offers.
Add On Activities
Add on an additional activity DURING your time for just $5/person more. We Offer Axe Throwing, Knife Throwing, and Archery.
Or try our Bundles! You can choose two activities or all three! Starting at $30/person. Click on the "Book now" button and choose "Bundles"
Minimum Age?
By movie standard, our facility is rated PG-13.  Parental consent is required for all participants under 18. Parents can sign online at www.farshot.net/waiver 
We understand that everyone is different, it comes down to whether or not a participant can throw or shoot safely and effectively. We do not recommend Children under the age of 12. We hold the right to refuse service to anyone who does not adhere to our strict safety protocols and does not comply with coach instructions.
Cancellations or Changes
If you no longer meet the minimum for your booking just call us and let us know so we can make sure you don't get charged a high minimum. (518)-898-9167
We're sorry to hear you have to cancel but we understand life happens! Don't fret, we're not here to make it worse, just let us know and we'll accommodate. Full refunds with 48Hr notice email

[email protected]