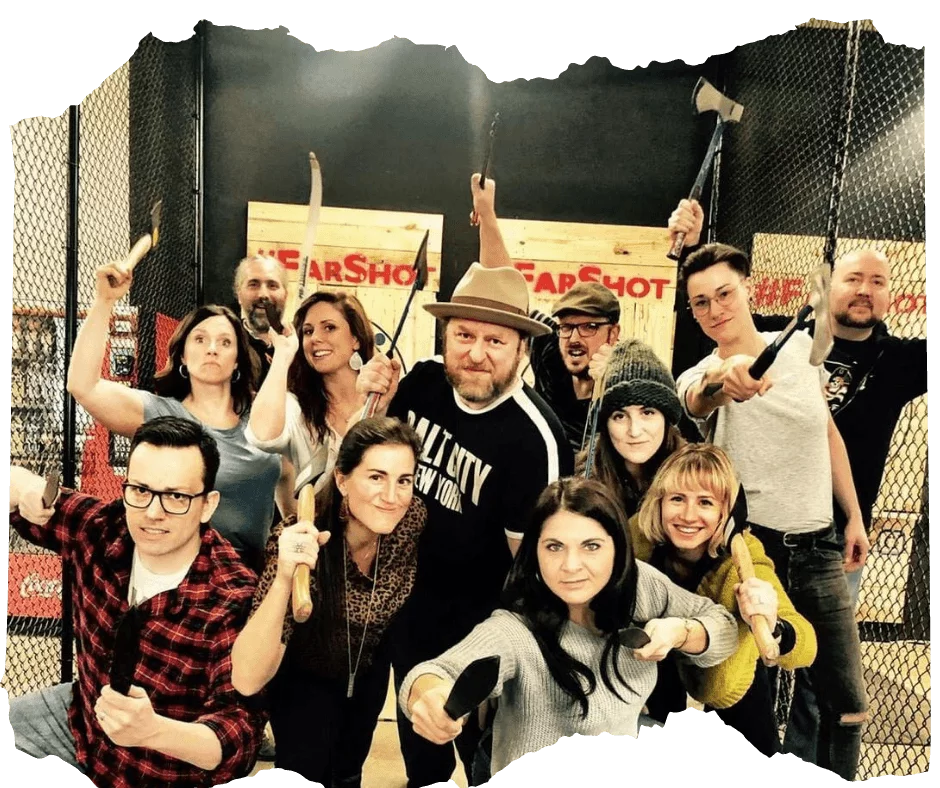 AXE THROWING PROVIDENCE
**UPDATE**NOW SERVING! Our throwing activities are now available with drinks while our kitchen is pending! Activity is not required to enjoy our bar!**
Are you looking for things to do in Providence, RI? Looking for a competitive but also encouraging team-building activity? Drinks, axe throwing, and knife throwing; join us for a twist to your regular bar night (drinks pending). Perfect spot to build a team, meet a friend, hang out, bring a date, de-stress, blow-off-some-steam – you name the excuse, we're here for you!
Check out Far Shot's axe throwing in Providence, RI; Downtown's only axe-throwing venue! [Bar pending] Trained by the Head Coach of the World Axe Throwing League – this is the place you want to go to throw an axe! Prices start at $18 per person for a half-hour session and go up to $40 per person for two hours. Level up by adding knife throwing to your axe session for just $5/person extra. Looking for a bigger discount? Check out our weekday Deals or come in a group 15+ for an additional $5 off. Each Booking comes with equipment, training, and games! Bring the friendly competition and the cameras🤳 because this is bound to be one for the memory books.
Did we mention you're free on your birthday with a group of 6 or more?🎂🎉
---
KNIFE THROWING PROVIDENCE
**UPDATE**NOW SERVING! Our throwing activities are now available with drinks while our kitchen is pending!**
Knife throwing looks and sounds lethal but..it's more of an art thing to do! Come experience the art of knife throwing with a group of your friends. This activity includes training followed by competition with the supervision of a coach. Add it to your axe-throwing main event for just an extra $5/person! Or Book just knife-throwing if you think you're on point! Starting at $18 per person. For a private space, we recommend booking a 1-hour slot with your group at $25pp (minimum 4 people). Groups over 10, we recommend doing a 2-hour private session for $40 per person.
---
LEAGUES! LEAGUES!
8 Weeks of Chopping Fun! An appreciation night, playoffs, and a potluck night. Rank with other players across the world.
---
E-Gifts
Gift a Sharp Experience from afar. Best last-minute, socially distanced, locally supportive gift-giving idea Ever! Never expires; good for any of our activities!
Q & A
Requirements?
Closed-toe footwear (no sandals)
Waivers are required.
Listening to your coach and following safety instructions are also required.
Skeptical?
At Far Shot Axe throwing, industry leaders in safety, Your host is trained to keep you safe. The axes and knives are also purposely dulled. From targets, floors, cages, to axes, we've designed an environment that works to mitigate mishaps. The worst injuries we've had are bruised egos! If you're still scared after your first couple of throws, let your coach know and you can get your money back and transition to being an observer.
Mixing alcohol with Sharp objects is safe? There is a 2-drink advisory for throwers, our coaches are trained to refuse participation in throwing activities for intoxicated guests. You're welcome to enjoy our bar and continue drinking after your throwing session. We hold the right to refuse service to all participants who do not adhere to coaches, safety procedures, and instructions. Our coaches are there to ensure safe throwing and drinking practices!
Book The Whole Place?
Book the whole place, do knife, and axe throwing in Downtown Providence, RI with Far Shot. Email us for quick replies at

[email protected]
Food and Drinks
We will be selling Alcohol and cold Sodas and snacks.
You don't need to participate in an activity to purchase our drinks.
You're welcome to bring in your own food including cakes.
Bring Your Own?
We love it when you share your passion with us. If you want to bring in your own equipment we'll accommodate. As long as the equipment is inspected and is deemed to be safe for use.
Free For Your Birthday?
Only valid for 1 person with a group of 6 or more people. Can not be combined with any other promotions or offers.
Add On Activities
Add on an additional activity DURING your time for just $5/person more. We Offer Axe Throwing and Knife Throwing.
Minimum Age?
By movie standard, our facility is rated PG-13. Parental consent is required for all participants under 18. Parents can sign online at farshot.net/waiver
We understand that everyone is different, it comes down to whether or not a participant can throw or shoot safely and effectively. We do not recommend Children under the age of 12. We hold the right to refuse service to anyone who does not adhere to our strict safety protocols and does not comply with coach instructions.
Cancellations or Changes
If you no longer meet the minimum for your booking just call us and let us know so we can make sure you don't get charged a high minimum. 1-844-750-0118
We're sorry to hear you have to cancel but we understand life happens! Don't fret, we're not here to make it worse, just let us know and we'll accommodate. Full refunds with 48Hr notice email

[email protected]
Book Now